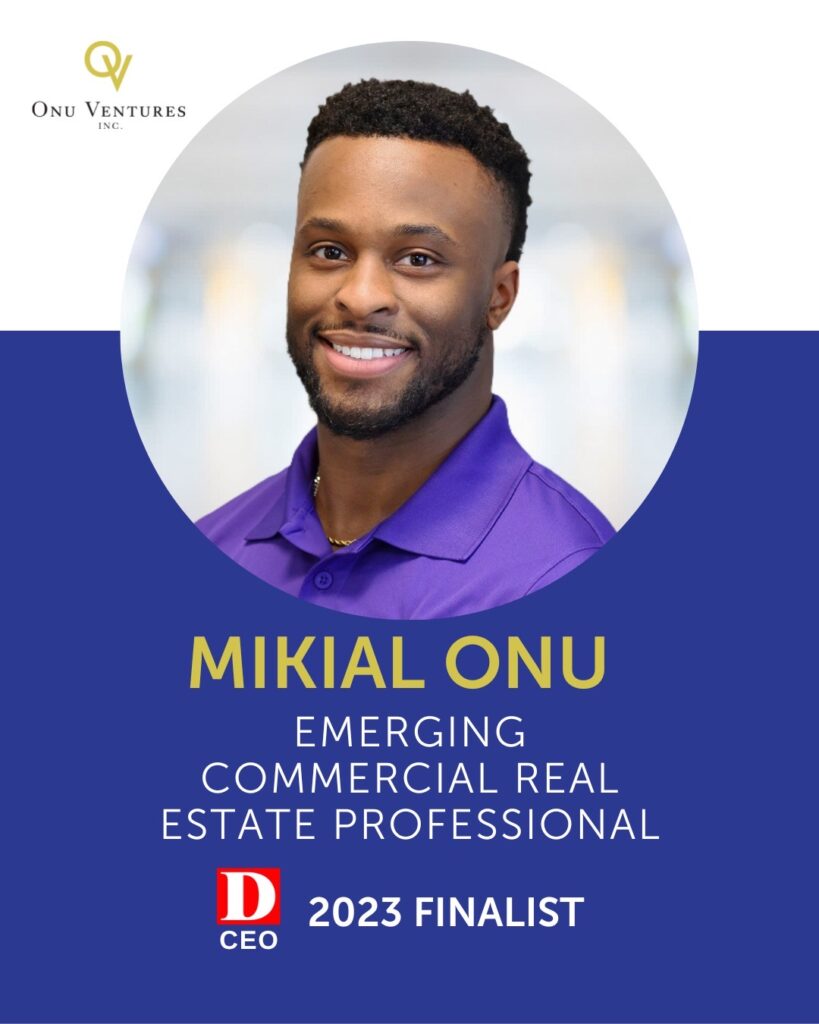 DALLAS—Onu Ventures' founder and CEO Mikial Onu has been named a finalist for the prestigious Emerging Commercial Real Estate Professional Under 40 Award from D Magazine.
Since Onu Ventures' founding in 2021, Mr. Onu has emerged as a leading young executive in the Dallas real estate community, building an impressive portfolio of single family and mixed-use development projects across Texas.
The former Southern Methodist University standout defensive back has been lauded for his company's commitment to investing in underserved and underdeveloped communities in the Dallas-Fort Worth area and other major Texas urban centers.
"I'm very honored to be recognized by my peers as one of the top young real estate professionals in one of the most competitive markets in the nation," says Mr. Onu.
"I hope to continue to build Onu Ventures' reputation as one of the most innovative real estate development firms in Dallas-Fort Worth as well as the markets we plan to enter in and flourish," reflects Mr. Onu.
Under Mr. Onu's stewardship, Onu Ventures plans to expand their already impressive real estate portfolio. The company plans to break ground in Spring 2023 on a number of projects, including The Adaline—a stunning multi-family and retail development coming to Southern Dallas.
Despite all of the early success that he has experienced just four full years into what he plans to be a lifelong career in real estate, Mr. Onu still remains committed to his core values.
"I'm guided by my philosophy that, ultimately, I am third," states Mr. Onu. "God and community come first and second, respectively. None of what I have been able to accomplish thus far would have been possible without the grace of God and the wonderful connections we have managed to make in the communities in which we choose to develop."
D Magazine will announce the winner of the award on March 28, 2023.
####
Onu Ventures, Inc. is a real estate development corporation engaged in the acquisition, development, and disposition of all traditional types of real estate in the Sun Belt region. From raw land to master planned communities, we approach all projects with an open mind; we consider the future economic impact of the market and submarket. Developments include low to mid-density apartments, single-family home communities, townhome communities, mixed-use, and retail. We aim to capitalize on the immediate submarket's opportunities for future growth. We make the vision a reality through careful due diligence, strategic partnerships, and competitive financing structures.